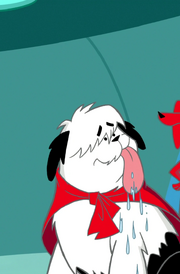 Drooly is a character in Krypto the Superdog and a member of The Dog Star Patrol.
Biography
Edit
Powers and Abilities
Edit
He is a Old English Sheepdog who can use his drool for grabbing objects, creating bubbles and use them as projectiles.
Drooly's character design is most likely based off of Dum Dum from Hanna Barbera's 1960s cartoon, Touche Turtle.